We are excited to get our expertise and years of experience into the hands of as many students as possible—especially now that it's peak college application season!
We'd be so grateful if you shared a link to The Complete College Essay Handbook with friends and family. If you decide to purchase it—thank you, and consider leaving a short review!
If you leave a review and share it with us, we'll send a copy of The Complete College Essay Handbook to a school, library, or non-profit (that serves high school students!) of your choice.
Email us at brittemmaessays@gmail.com to let us know where you want a copy sent.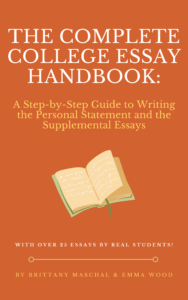 The Complete College Essay Handbook is a no-frills, practical guide that will give students the confidence and know-how they need to craft the best essays for every single school on their list—in less time and with less stress. The Complete College Essay Handbook walks students through:
What makes an essay stand out, drawing on sample essays by real students to illustrate main points
Brainstorming activities to find the best topics for the personal statement and supplemental essays
How to write the two central components of every application essay: scene and reflection
Editing and revision—including techniques to cut down or expand an essay to hit the word limit
The four types of supplemental essays and how to decode the different essay prompts, using actual essay questions
The strategy behind a well-rounded set of application essays
Thank you and write on!
*Stay in the know! Subscribe*