Hi. If this were a podcast, this would be the part where we'd say, in our distinct voices: "I'm Brittany." And then: "I'm Emma." We've been working together to guide students through their college applications since 2016. After a few years, we realized our process was not reflected in any of the essay materials we found elsewhere, so we decided to write it down. What started as internal documents for our students eventually turned into a book. Since it is time to start thinking about essays, remember that…
The Complete College Essay Handbook is available on Amazon!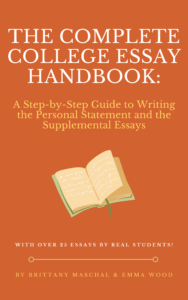 It's a no-frills, practical guide that will give students the confidence and know-how they need to craft the best essays for every single school on their list—in less time and with less stress. The Complete College Essay Handbook walks students through:
What makes an essay stand out, drawing on sample essays by real students to illustrate main points
Brainstorming activities to find the best topics for the personal statement and supplemental essays
How to write the two central components of every application essay: scene and reflection
Editing and revision—including techniques to cut down or expand an essay to hit the word limit
The four types of supplemental essays and how to decode the different essay prompts, using actual essay questions
The strategy behind a well-rounded set of application essays
We are excited to get our expertise and years of experience into the hands of as many students as possible—especially now that it's college application season!
We'd be so grateful if you shared a link to The Complete College Essay Handbook with friends and family, and if you decide to purchase it—thank you, and also consider leaving a review (verified Amazon reviews are huge for increasing exposure). If you have feedback—or just want to say hi—email us at brittemmaessays@gmail.com. 
Thank you for your support!
Brittany & Emma