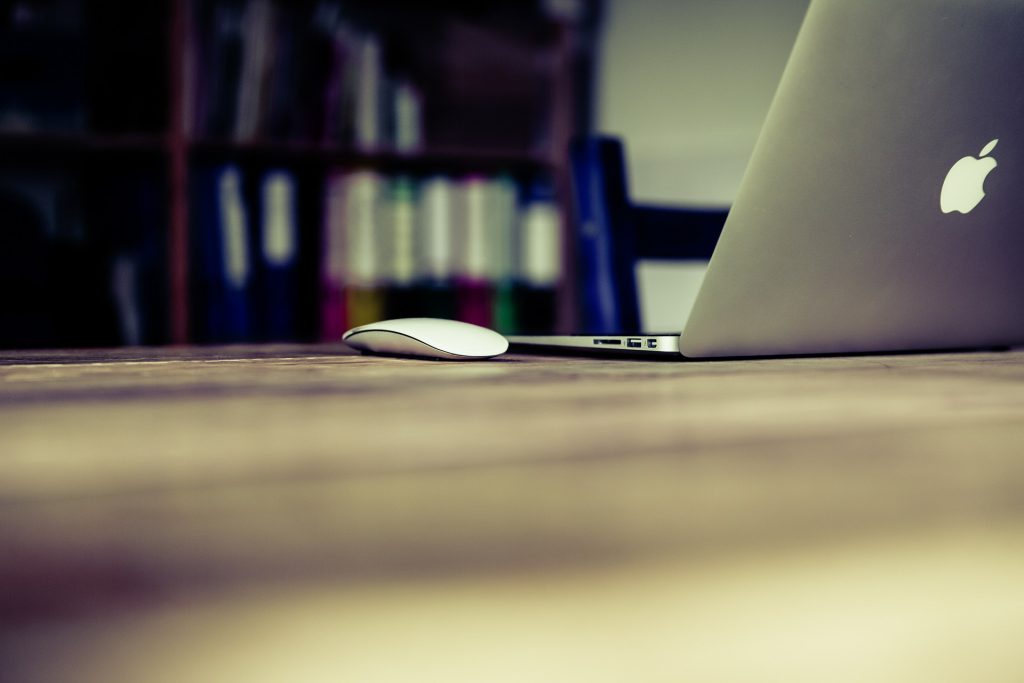 Defenders of the use of disciplinary records in college admission believe they are an important way for schools to keep students with behavioral or character 'issues' off their campuses, while most opponents feel high school disciplinary records have little predictive value and stigmatize students for minor infractions. One thing that remains constant is that many colleges still collect disciplinary information, and most students who report an infraction are very worried about the outcome of their application.
However, what I want to point out in this post is that reporting a disciplinary infraction is not a total application killer! Admissions officers understand that people make mistakes; they were high school students once, too. Most infractions are minor, and colleges are sympathetic if the student is forthright, the incident is thoughtfully explained, and they can meaningfully reflect on their growth from it.
Here is how disciplinary information is currently collected on the Common Application: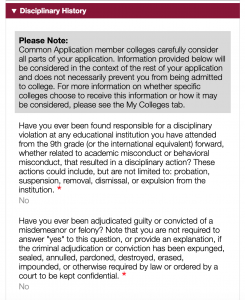 Once you check yes, the space to write a short essay appears, as well as one other question: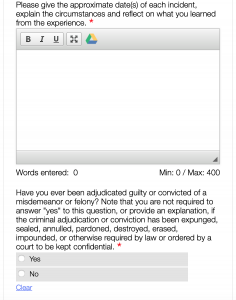 I have worked with and read the applications of many students with disciplinary records, ranging from academic dishonesty and getting caught drinking to being arrested for a felony—and I have found that not all disciplinary infractions are treated equally. Some infractions are seen as very minor while others are taken quite seriously and could make admission to a top-top school hard. Let's break down some different types of offenses (of course there are others, but these are a few I have experience with and hear about most frequently from other counselors):
Minor incident (common): minor school-based disciplinary matters; drinking
Moderate incident (slightly less common): suspension from school; marijuana
Severe incident (not that common): expulsion from school; other drugs, academic dishonesty, arrest (misdemeanor/felony), other character-based offenses such as stealing, bullying, sexual assault, etc.
One caveat: how the infraction is viewed will also depend somewhat on the school you are applying to. School's with strong honor codes (UVA, Davidson, William, and Mary) might view offenses more seriously than other schools, so keep that in mind.
I know students who reported infractions across all three categories, and all of them still got into college. No application process was completely ruined. A few examples: one who reported both a moderate and minor infraction now attends an Ivy League school. One who reported what I consider a severe incident (academic dishonesty) is graduating from a top fifteen school (and was competitive for but denied from all Ivies). I believe each applicant's disciplinary essay is where they were able to turn a mistake into a positive point of self-reflection that allowed the admissions committee to see their personal growth and commitment to it since the incident. Here's how I typically have students outline this short, 400-word essay:
Explain what happened as concisely as possible (~100 words)
Present what was going on at the time, if anything, that might have lead to a lapse in judgment (~100 words)
Discuss how you remedied the situation and began to work on yourself to ensure it or something like it will never happen again (~100 words)
Reflect on the journey, walk the reader through what you learned (and how you are applying these learnings if applicable), and then close touch on how you have grown from navigated it (~100 words)
If you are a regular reader of my blog, you know that I closely follow the Georgia Tech admissions blog, and often re-post or link to their posts because of the light they so often shed on this complicated process. As I write this, Rick Clark posted about this very topic. I hope his words will also help you see that this does not have to be an application killer:
Ownership.  Answer the questions honestly and thoroughly on your application or reach out personally and immediately to a school who has admitted you, if you have some type of infraction post-admit. Every year we receive emails and calls from other students, principals, counselors, "friends," or others in the community informing us of discipline/behavior/criminal matters involving an applicant or admitted student. It is much, much better to be honest and proactive than to have an admission counselor receive information from another source and have to contact you to provide an explanation of circumstances.

"My friends made me…" "I didn't want to but…" "I tried to tell them it was wrong…" and the list goes on. Please. I am begging you, PLEASE be sure none of these phrases are in your application. Whether at home, at school, or at work, disciplinary action is serious. If you have something to report, own it. Drunk at prom? Arrested at 2 a.m. for re-distributing neighbors' leaves back across their yards after they'd lined and bagged them at the street? "Borrow" the car in the middle of the night by putting it in neutral and coasting out of the driveway with the lights off? We're listening.

Application evaluation, individualized discipline review, life in general… it's nuanced, complicated, and grey. Why did you choose to do that? What did you learn from it? How has it changed you as a person, a student, a friend, a family member? Those are the questions at the core of our review. You made a decision and now we have one to make. Help us by not waffling or watering down your explanation.
Everyone makes mistakes. Some are worse than others and might be an issue if you are targeting top tier schools, but most won't prevent you from attending college. If you would like help navigating a disciplinary issue or want help writing your disciplinary essay, contact us!
*Stay in the know! Subscribe for news, tips, and advice*