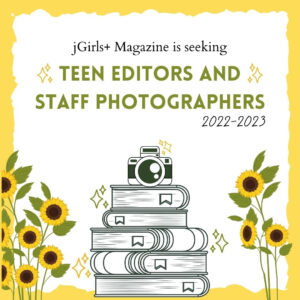 Now accepting applications for 2022-2023 teen editor and staff photographer positions!

The application is open to self-identifying Jewish girls, young women, and non-binary people across all backgrounds and across North America who will be in 10th-12th grades in the 2022-2023 academic year. 

They actively encourage applicants who are diverse in their Jewish identification, sexual orientation, gender expression and identity, race, ethnicity, and abilities. If you're unsure whether jGirls+ staff positions are open to your specific Jewish and/or gender identity, they encourage you to read the FAQs for those answers and more. Applications are open now through April 14th.
jGirls+ editorial board members and staff photographers make a difference in the world by:
Building an online community of future Jewish leaders.
Providing space for Jewish teenage girls, young women, and nonbinary teens to make their voices heard.
Engaging in discussion across differences of background, opinion, and perspective.
*Stay in the know! Subscribe*