GirlTechBoss STEMpreneur Meetup in NYC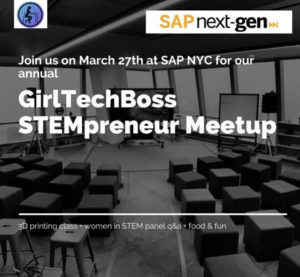 Join us on March 27th at 3:30 pm for our annual GirlTechBoss STEMprenuer Meetup in NYC at SAP's Innovation Space at Hudson Yards!
The Meetup includes:
Panel discussion with accomplished female entrepreneurs in STEM
3D printing class (create your own 3D printed design!)
Engineer light-up cards
Food, games, photo booth
Take home personalized goodie-bag 🙂
This event is a fun opportunity for middle and high school girls to learn about and develop their interest in STEM. Attendees will meet with accomplished women in the STEM, entrepreneurs, learn 3D printing, and form connections with like-minded peers.
Tickets are $15.00 and can be purchased via Eventbrite. If you are unable to purchase a ticket, you can apply to our scholarship program by emailing us at girltechboss@gmail.com.

Complete Your Common Application Essay in One Week! 
Do you have zero plans for spring break, or maybe just a slower-than-usual start to the semester? Want to get the most important piece of writing in your college application completed efficiently and early? 
If you answered yes to both questions, look no further: this is the program for you. In one week of focused 1:1 work with an essay expert, you will be able to check a very important college application item off your list: the Common Application essay.  
More specifically, in this program you will: 
Attend a live session to learn what makes a successful Common Application essay.

Complete our specialized brainstorming process, working with an essay expert 1:1 to decide on the most unique approach to your essay. 

Draft your essay and receive detailed, targeted feedback to take it from a rough draft to a polished final essay—in four days!
You'll also get access to sample personal statements by real-life students we've worked with (and who have gained admission to selective colleges and universities!).
When is this program offered?
This course is offered on-demand! Let us know your preferred week, and we will reach out to you with our availability. If we are not available for your preferred week, we will work with you to find another time that fits both of our schedules. 
Who should sign up for this program?
Juniors who are ready to write their Common App essay (aka the personal statement)

and

who have a significant chunk of time each day to dedicate to it over the course of one week.
How do I get more information and pricing?