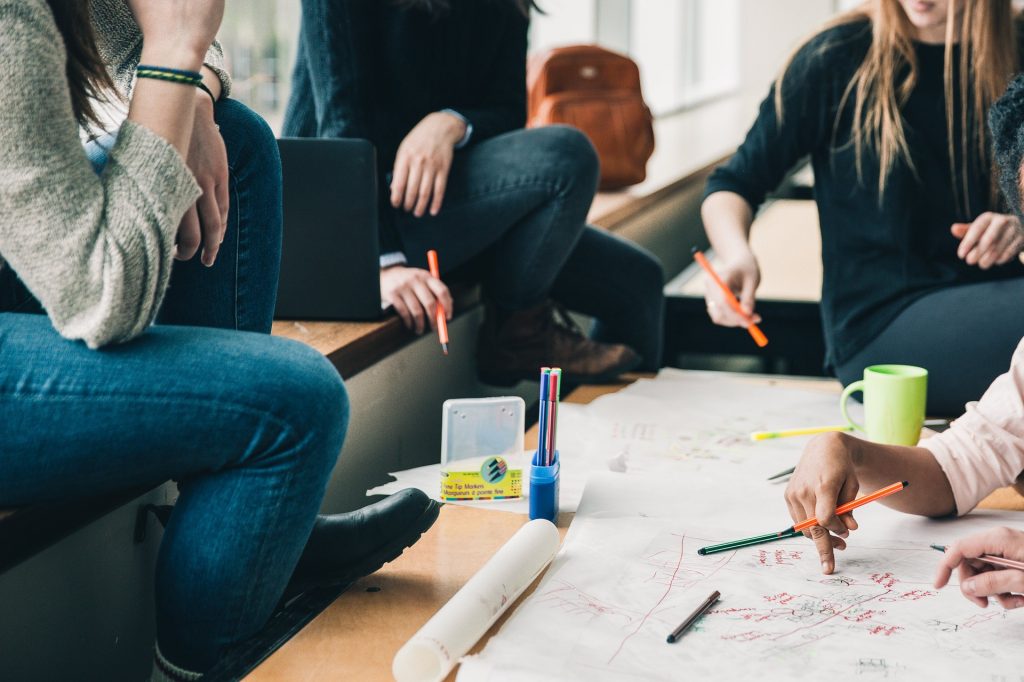 Cornell Dyson is one of five schools with single-digit acceptance rates among the 88 in P&Q's third annual ranking. The others, in order, are: UC-Berkeley Haas School of Business (4.30%), the Wharton School at the University of Pennsylvania (6.49%), NYU Stern School of Business (8.00%), and Washington University in St. Louis Olin Business School (9.70%). These are the same five schools that were the most selective in last year's ranking of 82 schools, though all five reduced their acceptance rates this year. In fact, all of the top 17 schools this year saw their rates go down!
Berkeley Haas — a two-year program — sliced its rate in half, from 8.62%; NYU Stern dropped three percentage points, from 11%; and Washington Olin shaved off nearly two points, down from 11.48%. Wharton, the top school in our ranking last year and this year, had an acceptance rate of 7.1% in 2017.
Acceptance rates, average SATs, and percentage of students in the top 10% of their high school classes. The admissions score was one of three categorical scores for the entire P&Q ranking.
Read more on Poets & Quants.
| Rank | School | Admissions Score | Acceptance Rate | Average SAT | Percentage of Top 10% |
| --- | --- | --- | --- | --- | --- |
| 1 | University of Pennsylvania (Wharton) | 100.00 | 6.49% | 1486 | 97.00% |
| 2 | Washington University in St. Louis (Olin) | 98.37 | 9.70% | 1510 | 91.00% |
| 3 | University of California-Berkeley (Haas) | 94.09 | 4.30% | 1490 | 80.85% |
| 4 | Cornell University (Dyson) | 92.14 | 2.90% | 1453 | 83.33% |
| 5 | University of Michigan (Ross) | 89.58 | 12.00% | 1470 | 82.22% |
| 6 | New York University (Stern) | 88.73 | 8.00% | 1468 | 77.08% |
| 7 | Carnegie Mellon University (Tepper) | 88.00 | 12.00% | 1473 | 78.00% |
| 8 | Georgetown University (McDonough) | 87.64 | 15.84% | 1431 | 90.00% |
| 9 | University of Virginia (McIntire) | 86.79 | 12.15% | 1407 | 90.00% |
| 10 | University of Notre Dame (Mendoza) | 83.74 | 19.00% | 1429 | 84.60% |
| 11 | University of California-Irvine (Merage) | 81.60 | 22.00% | 1359 | 98.00% |
| 12 | University of North Carolina at Chapel Hill (Kenan-Flagler) | 79.60 | 12.17% | 1367 | 82.70% |
| 13 | Southern Methodist University (Cox) | 77.50 | 11.12% | 1494 | 49.00% |
| 14 | Emory University (Goizueta) | 76.65 | 17.21% | 1470 | 58.00% |
| 15 | Boston College (Carroll) | 75.98 | 25.00% | 1402 | 78.65% |
| 16 | University of Texas-Austin (McCombs) | 75.71 | 22.80% | 1384 | 80.00% |
| 17 | Villanova University | 75.40 | 22.07% | 1408 | 73.33% |
| 18 | Wake Forest University | 72.52 | 24.80% | 1378 | 76.00% |
| 19 | Georgia Institute of Technology (Scheller) | 70.99 | 23.70% | 1376 | 72.00% |
| 20 | Boston University (Questrom) | 69.55 | 17.76% | 1422 | 53.16% |
| 21 | Northeastern University (D'amore-McKim) | 68.68 | 18.68% | 1463 | 43.00% |
| 22 | Indiana University (Kelley) | 68.35 | 40.38% | 1437 | 67.97% |
| 23 | University of Wisconsin-Madison | 65.64 | 35.00% | 1405 | 64.00% |
| 24 | Tulane University (Freeman) | 65.46 | 22.00% | 1420 | 48.33% |
| 25 | The College of William & Mary (Mason) | 63.67 | 22.40% | 1346 | 61.00% |
| 26 | University of Richmond (Robins) | 62.99 | 30.31% | 1363 | 63.00% |
| 27 | Lehigh University | 62.71 | 22.39% | 1376.39 | 52.13% |
| 28 | University of Washington (Foster) | 62.48 | 20.95% | 1310 | 64.94% |
| 29 | University of Illinois at Champaign-Urbana (Geis) | 60.15 | 48.98% | 1365 | 73.37% |
| 30 | University of Minnesota (Carlson) | 60.00 | 28.44% | 1371 | 52.80% |
| 31 | Babson College | 59.21 | 24.00% | 1353 | 50.91% |
| 32 | Worcester Polytechnic Institute (Foisie) | 58.01 | 36.00% | 1395 | 50.00% |
| 33 | Fordham University (Gabelli) | 55.16 | 44.90% | 1361 | 59.30% |
| 34 | University of Pittsburgh | 55.05 | 44.00% | 1345 | 61.76% |
| 35 | University of Miami | 52.71 | 30.44% | 1327 | 48.00% |
| 36 | University of Georgia (Terry) | 50.90 | 47.44% | 1300 | 65.52% |
| 37 | University of Houston (Bauer) | 49.92 | 25.18% | 1309 | 40.87% |
| 38 | Rutgers Business School (New Brunswick) | 47.47 | 46.00% | 1349 | 45.70% |
| 39 | Texas A&M University (Mays) | 47.13 | 34.07% | 1281.72 | 48.80% |
| 40 | Syracuse University (Whitman) | 46.42 | 38.10% | 1304 | 46.00% |
| 41 | University of Massachusetts-Amherst (Isenberg) | 45.56 | 30.60% | 1336 | 30.10% |
| 42 | University of Utah (Eccles) | 44.75 | 40.80% | 1270 | 52.24% |
| 43 | American University (Kogod) | 44.43 | 31.60% | 1256 | 46.15% |
| 44 | Ohio State University (Fisher) | 44.41 | 38.60% | 1340 | 34.00% |
| 45 | Brigham Young University (Marriott) | 43.12 | 63.16% | 1325 | 57.01% |
| 46 | Pennsylvania State University (Freeman) | 42.55 | 37.00% | 1319 | 33.00% |
| 47 | University of Denver (Daniels) | 42.15 | 46.30% | 1299.3 | 45.00% |
| 48 | Texas Christian University (Neeley) | 40.43 | 46.56% | 1265 | 48.94% |
| 49 | University of Kentucky (Gatton) | 39.70 | 69.79% | 1395 | 40.00% |
| 50 | Hult International Business School | 39.39 | 50.00% | 1264 | 50.00% |
| 51 | Purdue University (Krannert) | 39.32 | 62.00% | 1268 | 60.00% |
| 52 | Rensselaer Polytechnic Institute (Lally) | 38.20 | 42.00% | 1291 | 34.00% |
| 53 | Michigan State University (Broad) | 34.82 | 32.19% | 1241.77 | 28.27% |
| 54 | The College of New Jersey | 34.52 | 41.00% | 1254 | 33.00% |
| 55 | University of San Diego | 33.89 | 53.00% | 1275 | 38.00% |
| 56 | Santa Clara University (Leavey) | 32.48 | 43.50% | 1366 | 6.00% |
| 57 | Miami University (Farmer) | 31.38 | 62.60% | 1323 | 30.60% |
| 58 | St. John's University (Tobin) | 31.09 | 59.00% | 1208 | 52.00% |
| 59 | Christopher Newport University | 28.58 | 74.60% | 1270 | 47.06% |
| 60 | University of South Carolina (Darla Moore) | 27.02 | 65.10% | 1299 | 28.41% |
| 61 | University of Delaware (Lerner) | 26.53 | 46.40% | 1285 | 13.20% |
| 62 | Seton Hall University (Stillman) | 26.45 | 57.60% | 1257 | 29.50% |
| 63 | University of Texas-Dallas (Jindal) | 24.66 | 60.00% | 1242 | 31.00% |
| 64 | Providence College | 24.65 | 51.00% | 1247 | 21.60% |
| 65 | Rutgers Business School (Newark) | 22.92 | 55.00% | 1157 | 41.25% |
| 66 | University of Tennessee-Knoxville (Haslam) | 22.86 | 85.00% | 1212.6 | 56.44% |
| 67 | St. Thomas University (Opus) | 21.04 | 83.00% | 1215 | 50.00% |
| 68 | James Madison University | 20.13 | 68.31% | 1217 | 34.00% |
| 69 | Drexel University (LeBow) | 19.55 | 74.00% | 1262 | 28.00% |
| 70 | University of Akron | 19.19 | 73.99% | 1154 | 51.02% |
| 71 | Elon University (Love) | 17.71 | 72.10% | 1249 | 25.00% |
| 72 | University of Missouri-Columbia (Trulaske) | 15.62 | 69.17% | 1220 | 24.00% |
| 73 | Florida Southern College | 15.57 | 50.00% | 1203 | 10.00% |
| 74 | Lipscomb University | 15.35 | 61.00% | 1156 | 30.00% |
| 75 | University of Oklahoma (Price) | 14.39 | 61.77% | 1212 | 16.20% |
| 76 | Rochester Institute of Technology (Saunders) | 13.29 | 72.10% | 1204 | 25.00% |
| 77 | University of Arizona (Eller) | 13.13 | 79.00% | 1110 | 51.72% |
| 78 | University of North Carolina-Wilmington | 9.39 | 61.00% | 1177 | 12.00% |
| 79 | University of New Hampshire (Paul) | 8.02 | 64.10% | 1171 | 13.10% |
| 80 | Ithaca College | 7.82 | 80.18% | 1221 | 16.40% |
| 81 | St. Louis University (Chaifetz) | 7.28 | 83.03% | 1241 | 13.40% |
| 82 | Sacred Heart University (Jack Welch) | 6.39 | 60.80% | 1156 | 9.70% |
| 83 | Northern Illinois University | 6.01 | 53.84% | 1110 | 12.60% |
| 84 | University of Michigan-Dearborn | 5.13 | 62.00% | 1147.8 | 9.80% |
| 85 | Duquesne University (Palumbo Donahue) | 5.12 | 76.00% | 1197 | 11.80% |
| 86 | Texas Tech University (Rawls) | 4.53 | 76.40% | 1093 | 33.78% |
| 87 | Bowling Green State University | 1.09 | 70.00% | 1128 | 12.46% |
| 88 | Evansville University (Schroeder) | 0.00 | 88.60% | 1171 | 17.64% |